02/06/2022 06:00 PM Central
Beth Ipock
In recent years my husband and I have taken our camping trailer to Port Aransas, Texas for the month of January to miss some of the winter weather often offered up in Southwest Missouri during that time.
We love the beach and anticipated sitting there and enjoying watching people and the surf like we do in Gulf Shores (another favorite).
What We Love At Port Aransas
After our first several days in during our first visit to this brand new area, we learned that our favorite activity was watching the ships coming into and going out of the Corpus Christi shipping channel. We had no idea that we would see ships when we made our first reservation.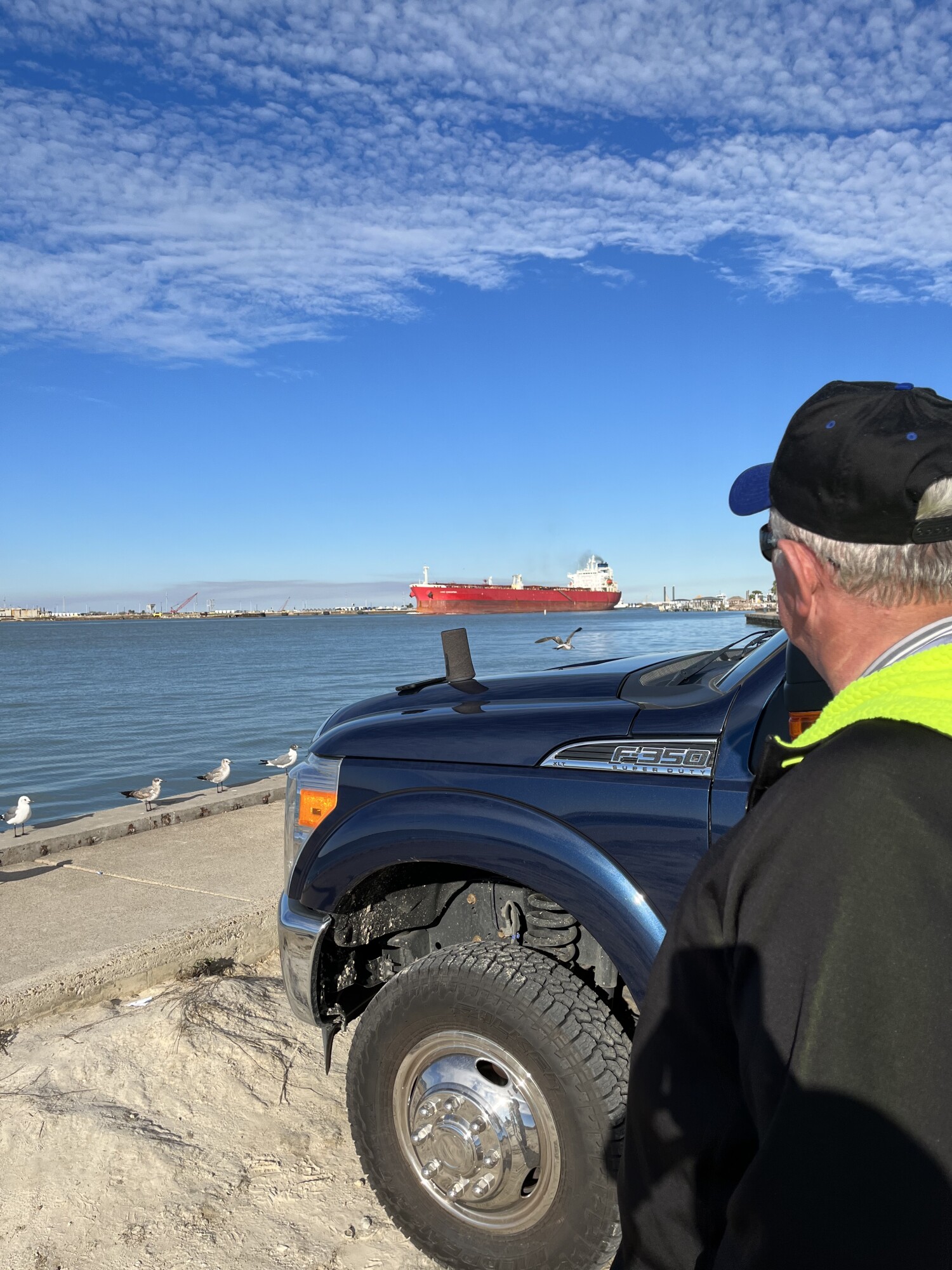 We're fascinated by the size of the ships and found a great website we can see what's on the move, the name of the ship and some of the other particulars like the type of ship and size. We keep an eye on that all throughout the day trying to get to one of our favorite viewing spots at the right time.
But even when our goal is watching a ship entering the channel or headed out, we often end up focusing on one detail or another.
For instance, it is fun to watch the dolphins playing in the surf created in front of the ship. Or at one of our favorite viewing spots, you can see the water drawn away from the channel wall as the ship progresses through and then returned in a huge wave that crashes against the wall and often even splashes over onto the sidewalk. Or you can just watch the wave that is created by an outbound ship as it starts and grows on it's way toward your spot along the channel wall. We've even seen someone surf for hundreds of yards on that wave.
Even while we're waiting for the ship to get to us there are pelicans to watch, sea gulls to feed (one of my husband's favorites) and many times - depending on the spot - you can catch a good dolphin show.
How Do You Pick What to Watch?
But here's the thing. I've noticed that if I focus in on one thing - like pelicans - I will likely miss the dolphins. If I focus on the dolphins (which is my favorite), I will miss the small water craft and larger tugs with barges, someone bringing in a fish, or a pelican or heron wrangling with its catch to make it edible.
If I focus on my phone trying to determine when the next ship is coming or what tomorrow's weather is, I will miss everything else around me. Or if I focus on the dolphins in front of the ship, I will totally miss the phenomena of the water drawing out and being pushed powerfully back in.
I simply CANNOT focus on more than one thing at a time. Sometimes it's hard to choose what I want my focus to be for the day. I have this problem at home, too. Do you?
The Importance of Intention
I suppose that is one reason I chose the word INTENTIONAL as my word for 2022. But I can't just set my intentions for the year and move on. In fact, I can't just set my intentions for the day and not consider it again.
Does the following scenario sound familiar?
I get up and have my Bible study and prayer time. 🤓n I ask the Lord to guide me in my priorities for the day. 🙏 I feel a clear leading to focus on xyz for the day and also to get some things done around the house. I begin working on xyz. My phone buzzes and I read a text. I respond. That interaction makes me think of something I have been wondering about so I check Facebook or the Internet or my bank account or…Then I think of one or five more things and work on those because I can knock those out really quickly. The next thing you know, the time I have to focus on xyz for the day is gone! 🤦🏻‍♀️
It's not that those other things were bad, necessarily. But my focus got changed and the thing I INTENDED got missed. What if my intention was just "being present" with whomever God put in my path? What if He had an opportunity for me to share Christ today and I missed it because I forgot my INTENTION?
Thank the Lord there is grace. But I don't want to be missing out on His plan for me!
Helpful Hints to Stay Intentional
Some things that are helping me in this area are:
Write out my intentions for the day (Notes on phone, Microsoft ToDo, paper, your favorite note app)

Pray over them

Look at them multiple times in the day

Use Do Not Disturb on my phone
Lord, help us to know where our focus should be each moment. Help us to seek your wisdom in setting our intentions for the day and then staying focused on the steps you have directed. Amen.