Mar 12, 2022 07:15 AM Central
Beth Ipock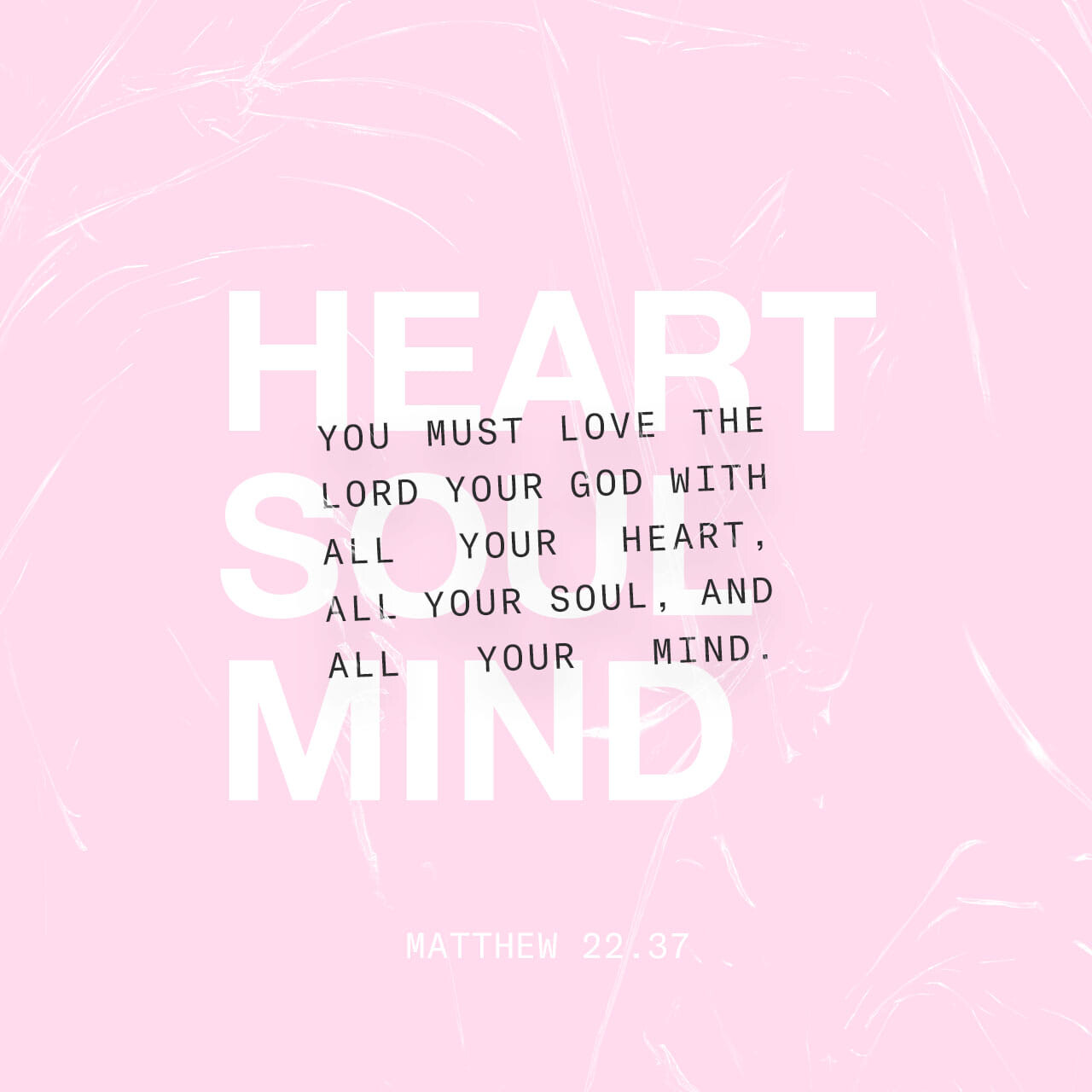 Our Lent Bible reading this morning (40 Days of Lent in YouVersion) this morning was on
Matthew 22:34-46
. Yesterday it was verses before that where the Sadducees had tried to trap Jesus and failed miserably.
Can anyone else see the Pharisees rejoicing that the Sadducees had been stumped by Christ and then crowding around each other to decide the question they were going to ask? Doesn't it seem like they thought sure they get the job done? The stumping, I mean.
And so He aimed right at the heart, rather than the intellect, and reminded them of love. Not just the first of the 10 commandments, but the Shema which they had been reciting since they were old enough to talk.
Prayer
Lord, in these days of darkness when all seems so bleak…
In these days when there are some vast chasms between opinions about morality in our country…
In these days when we feel embattled coming out of a pandemic and into inflation and fear of war
Help US to focus on loving you because you first loved us. Loving others because of your love for us.
Thank you for Christ's example of love for us and the price He paid to set us free to love.
Help us be good stewards of your love.
Do You Know God's Love?
If you've not experienced God's love personally - you can! Reach out
here
because I would love to share with you personally!
Mar 2, 2022 09:25 AM Central
Beth Ipock
I was not raised observing Lent but have found in the last few years that it can be a wonderful time of focus on our Lord, His amazing gift of grace and what He would have me do with it.

Today's passage in our YouVerson reading plan - 40 Days of Lent reading plan is Matthew 21:1-11.


"When they had approached Jerusalem and had come to Bethphage, at the Mount of Olives, then Jesus sent two disciples, saying to them, "Go into the village opposite you, and immediately you will find a donkey tied there and a colt with her; untie them and bring them to Me. If anyone says anything to you, you shall say, 'The Lord has need of them,' and immediately he will send them."
This took place to fulfill what was spoken through the prophet: "Say to the daughter of Zion, 'Behold your King is coming to you, Gentle, and mounted on a donkey, Even on a colt, the foal of a beast of burden.' " The disciples went and did just as Jesus had instructed them, and brought the donkey and the colt, and laid their coats on them; and He sat on the coats.
Most of the crowd spread their coats in the road, and others were cutting branches from the trees and spreading them in the road. The crowds going ahead of Him, and those who followed, were shouting, "Hosanna to the Son of David; Blessed is He who comes in the name of the Lord; Hosanna in the highest!" When He had entered Jerusalem, all the city was stirred, saying, "Who is this?" And the crowds were saying, "This is the prophet Jesus, from Nazareth in Galilee.""
‭‭Matthew‬ ‭21:1-11‬ ‭NASB1995‬‬
OUR RESPONSE
Sometimes when I study Scripture I focus in on people's response to Jesus and what I can learn from them.
OBEDIENCE - In verse 6 the disciples were obedient to Jesus' instructions. Would I be more obedient today!
VICTORY - In verse 8 people were spreading their coats on the road as they would for a king returning from a conquest. For them this was a little misplaced but shouldn't we treat Jesus as a conquering king? He has been victorious over the grave and will rule forever!
HOPE - In verse 10 the "city was stirred." This reminds me of Jerusalem when Herod was looking for baby Jesus (Matthew 2:3). I don't know if this was a good stirring or not, but let us be stirred with hope at the anticipation of His coming again!
WHO JESUS IS - In v11 people were saying who Jesus was. And they weren't wrong. But they weren't on target either. Jesus Christ was THE MESSIAH. The one they had been waiting for since God promised the seed of woman to crush the serpent's head.
Belief is Important
that if you confess with your mouth Jesus as Lord, and believe in your heart that God raised Him from the dead, you will be saved. Romans 10:9
WHAT we believe about Jesus is critical. Many people think of him as a teacher, a prophet, a good man. But He is THE WAY, THE SAVIOR, THE SOON-COMING, VICTORIOUS KING.
Let us worship Him today for who He really is and who we are in Him!
Do you know Him as Lord and Savior? If not,
click here
to contact me. I would love to visit with you!
Also - its not too late to join the group reading plan. It's really a blessing to get others' perspective on each passage. All you need is the YouVersion Bible app, a YouVersion account (free) and then
contact me
for an invite.