Apr 13, 2022 01:16 PM Central
Beth Ipock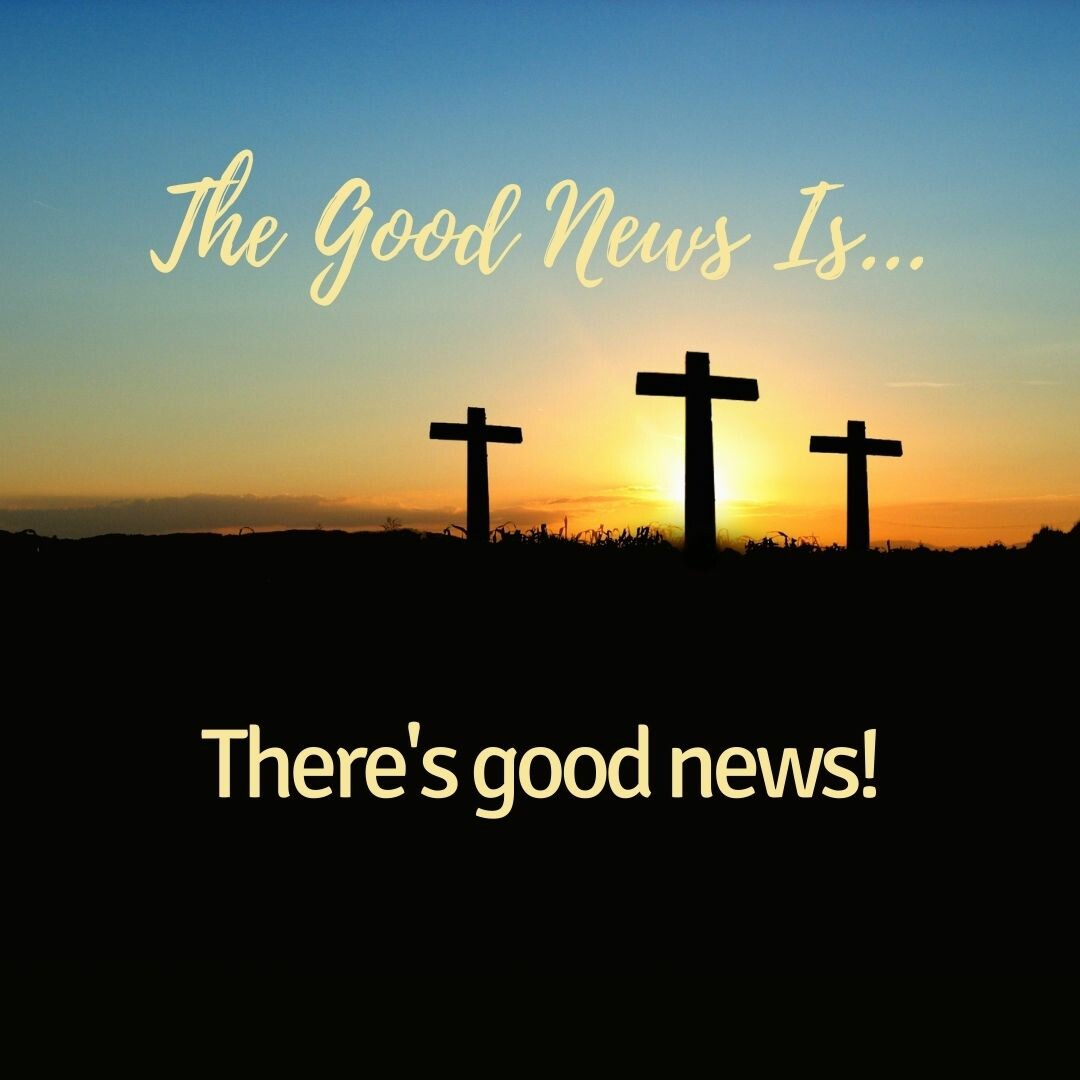 The bad news gets old quickly!
After two days of bad news about ourselves, we're pretty sick of it, right?
What's the worst part in days one and two of the "bad news" I shared?
• We're all sinners separated from God.
• We can't do enough on our own to be right with God.
• We could be separated from God eternally (I didn't go into detail on this but it would be the final result of not accepting the good news).
But that's not all the bad news, is it? The sinfulness of man has put us in a downward spiral in our culture where there is claimed confusion about everything. We are living where people believe what God says is wrong and claim it, not only as right, but as "a right" for people made in God's image.
We see images of war abroad and we encounter those fighting their struggles with addiction. We watch as families disintegrate, leaving children like orphans even when both parents are living.
We need good news!
The good news is that there IS good news!
Many people who don't know the Bible, know OF the good news and might even be able to quote it. At the very least they know where it is found because of the guy in the end zone at professional football games with the sign you see on TV.
Say it with me, won't you?
For God so loved the world

[that's you]

, that He gave His only begotten son

[that's Jesus]

, that whoever believes in Him

[that could be you]

shall not perish have eternal life [

with God]

. John 3:16
When we consider how holy – unique, set apart, righteous – God is, it is incomprehensible that He would love us so much.
When we consider how powerful and sovereign the creator of the universe is, it is marvelous to consider that He would love us and offer us eternal life with Him. If you'd like to dig into what the term "eternal life" means in the Bible,
click here
to check out this video by The Bible Project.
The author and inspiration of the Bible, God Himself, tells us over and over of His love for us. Do you know these assurances and in-depth descriptions of His love?
The Lord passed in front of Moses, calling out,

The God of compassion and mercy!

and filled with unfailing love and faithfulness. Exodus 34:6 NLT
O Lord, you are so good, so ready to forgive,

so full of unfailing love for all who ask for your help. Psalms 86:5
Give thanks to the Lord, for he is good!

His faithful love endures forever. Psalms 106:1
What Can God's Love Mean to You?
Maybe you're wondering what God's love can do for you?
Paul gives us insight into God's love to make it clear.
…For we know how dearly God loves us, because he has given us the Holy Spirit to fill our hearts with his love. When we were utterly helpless, Christ came at just the right time and died for us sinners. Now, most people would not be willing to die for an upright person, though someone might perhaps be willing to die for a person who is especially good. But God showed his great love for us by sending Christ to die for us while we were still sinners. Romans 5:5-8
Did you catch it?
We didn't have to clean ourselves up. We didn't have to become sinless. Christ died for us WHILE WE WERE SINNERS!
My friend, that is amazing news!
For those of you who have placed your faith in Christ for salvation, I pray that this is a great, reviving reminder for you. If you haven't made that decision, but you're ready to talk through it, you can click the "Contact Me" link in the menu to message me and I'll be in touch.
Either way, join me for the rest of the series through Easter Sunday. Here's what's coming:
• What Christ accomplished on the cross and through His resurrection
• Why this gift is called grace
• How you can have the gift
• Worshiping the risen Lord
If you haven't yet subscribed, I hope you'll do that today so you don't miss out.
Click here
to get on the notification list.
Finish up with a great song by the Gaither Vocal Band. It's Good, Good News!