Feb 2, 2022 08:21 AM Central
Beth Ipock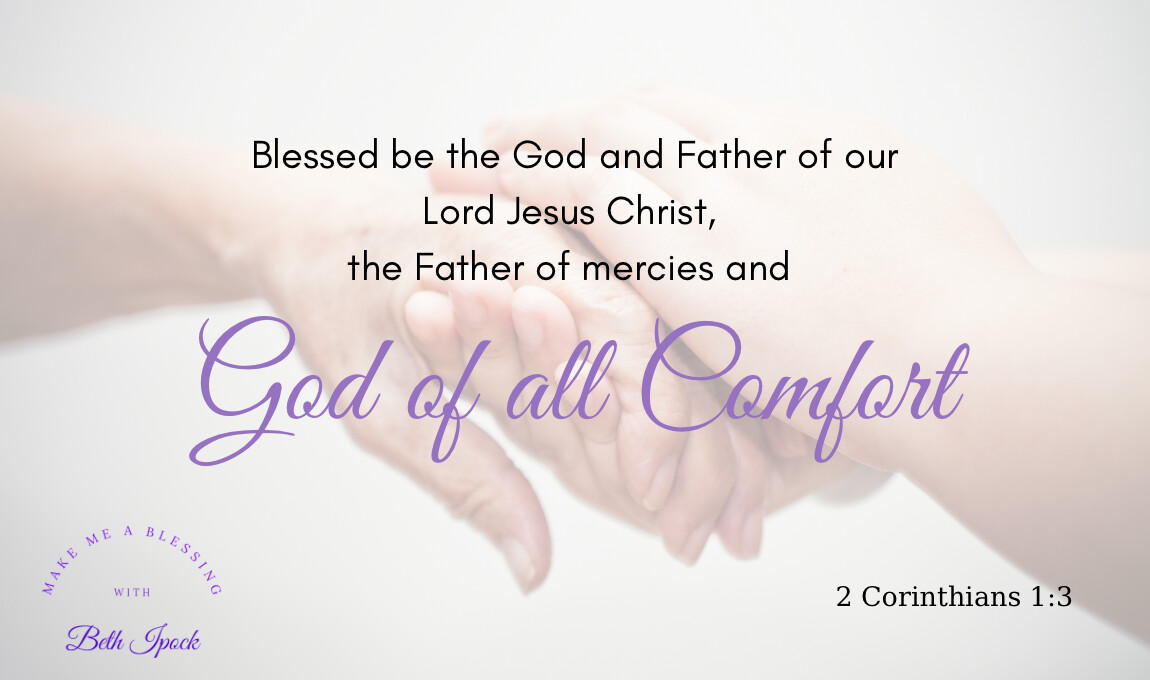 God is the great comforter
As I was praying for someone I love dearly tonight, I was asking God to comfort them. Frankly, I was also asking God to comfort me. While having no comprehension of what this loved one is going through physically, emotionally or spiritually, I know she is hurting. Her family is hurting.
And, frankly, I am hurting. To a much lesser degree, of course, but isn't that part of bearing one another's burdens, isn't it.?
And as I was asking God to comfort us, he brought a scripture to mind.
Blessed be the God and Father of our Lord Jesus Christ, the Father of mercies and God of all comfort, who comforts us in all our affliction so that we will be able to comfort those who are in any affliction with the comfort with which we ourselves are comforted by God.

2 Corinthians 1:3-4.
Sometimes I feel like we are at a disadvantage that we don't know the original language that the inspired writers of God's word used. So I am thankful for resources that help us with it.
I'm definitely not a Greek scholar but I love that the translation I use for study in the
OliveTree Bible App
has the
Strong's Concordance
built in. This helps me get some additional context.
The root word used here in this passage is παρακαλέω - parakaleō which Strong's says means to to call to or for, to exhort, to encourage. When I dig a little deeper I use Vine's Complete Expository Dictionary. Vine's says,
"It is used for every kind of calling to a person which is meant to produce a particular effect, hence, with various meanings, such as "comfort, exhort, desire, call for," in addition to its significance "to beseech [urge],"
Perhaps you have been taught that when Jesus promised the Holy Spirit as "the Helper" in John 14:26, the word He used was parakaleō.
How God's Comfort
Paul calls God, "the God of all comfort." Comfort is part of His character. He is better at it than anyone else. And the reasons He comforts us is so we can comfort others (verse 4).
How does God comfort you? Does He just pat you on the back and say, "It's going to be ok"? That's not my experience at all.
How many times have you:
Been reminded of a scripture verse or passage that spoke to your exact situation?
Had a godly friend message you out of the blue to say she as praying for you?
Scrolled upon a post of godly wisdom when you were seeking Facebook or Instagram rather than the Lord?
Heard the perfect worship song exalting faithfulness on Christian radio or your music app?
Sat under a pastor preaching the sermon that you desperately needed to hear?
Friends, THIS is God comforting. With Him, it IS going to be ok - possibly in a way we can't comprehend. But His encouragement and reassurance will be filled with specifics about His character and His promises.
Our Call to Comfort
If God is comforting us "so that we will be able to comfort those who are in any affliction," then He is wants us to be good stewards of that comfort, doesn't He?
Often, isn't He prompting us to pray for someone or speak encouragement to them? Let's do it!
Let's have some key scriptures at the ready to speak over or send to someone. The passages I find most helpful when I am hurting are those that speak of God's character - His mercy, His patience, His grace, His sovereignty, etc.
Other scriptures that are helpful are those that speak of His promises and those that speak of our position in Christ.
Send your friend a link to a biblically based song or just some of the lyrics.
Pray scripture over your friend and her need. Nancy Guthrie has published a book that is so helpful for this!
I Am Praying For You
not only has 40 scripture passages, but includes a short devotion on each one. In addition, it has a prayer to pray and a QR code so you can send the prayer quickly to your friend in need.
Challenge
Therefore encourage one another and build up one another, just as you also are doing. 1 Thessalonians 5:11
Prayer
Father, I thank you that you are merciful. Compassionate. Comforting. I praise you that I have experienced your comfort and companionship throughout my life.
I praise you for comfort that is more than a pat on the back saying, "It's going to be okay."
I praise you that you teach us how to give real comfort ourselves by coming alongside us with your Holy Spirit to give us wisdom, to guide us in all righteousness, to remind us who we are in you.
Help me to exhibit that kind of comfort that comes out of your great mercy and love that you are clearly calling us to do.