Oct 23, 2023 08:26 AM Central
Beth Ipock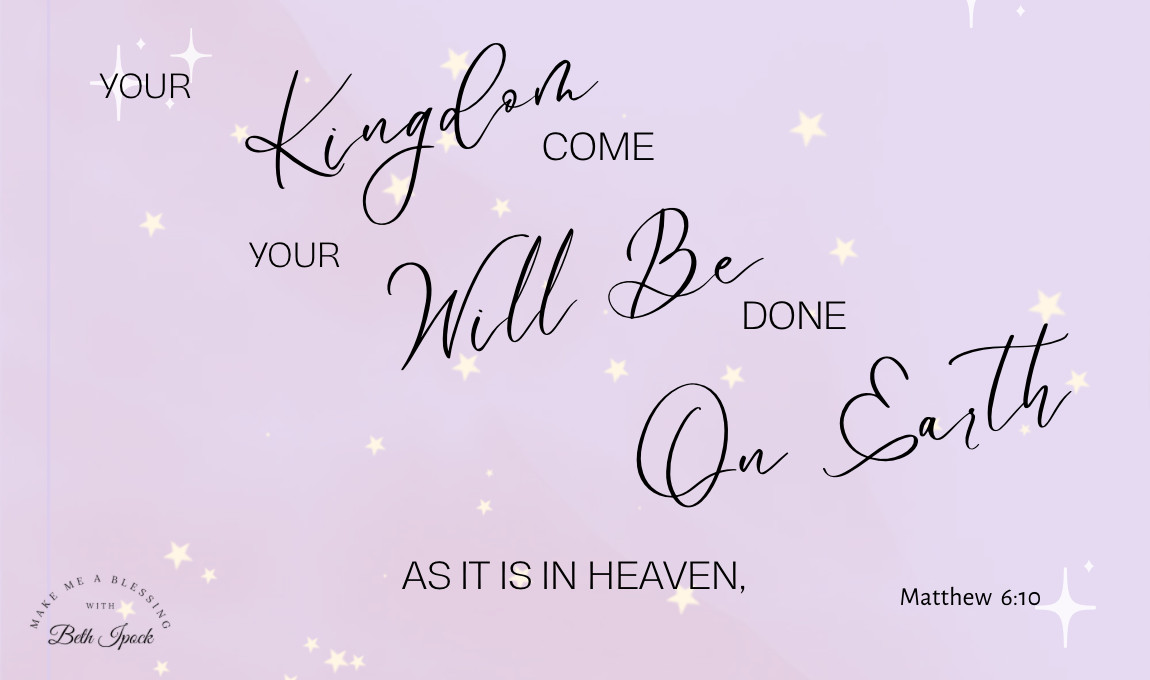 An open prayer in response to the Verse of the Day…
May your kingdom come, your will be done, on earth as it is in heaven. Matthew 6:10
I feel very convicted with this verse of the day this morning, Lord.
I do not pray this regularly. In fact, I have probably prayed this 5 times or less in the last year! Maybe when I think of your model prayer as I struggle with how to pray during a difficult time I lift this specific request.
The first thought that hit me this morning is, "Maybe I don't believe it is possible for earth to be like the heavenly kingdom until Christ comes back."
Maybe my prayers are too free-flowing. Maybe a bit more structure around all my requests would be better? Guide me. I don't want my time with you to be stiff and unyielding to the needs of the day/season.
And yet this prayer is so appropriate any time if I will sit with it and consider what I'm asking.
Or maybe some of my prayers are just more specific ways of seeking for your kingdom to come.
For specific loved ones and friends' loved ones to come to Christ

For me to have opportunities to share Christ and to be obedient to do it

For godly leadership in our country

For godly influence in our school boards

For young men to rise up and be the spiritual leader in their homes

For young couples to commit to the mission of our church to reach our community

For our church to have a more clear vision and direction of what ministries to prioritize

For missionaries around the world and the believers to continue to reach unreached people groups with the gospel

For babies to be saved and families strengthened through pregnancy care centers

For those of us who have a growing desire to know you through scripture will become more like you as a result - Christ was so intentional about being the kingdom here on earth
Show me, Lord, how to pray for your kingdom to come and for your will to be done here as it is in heaven. And let it begin with me.
Now to him who is able to do exceedingly abundantly beyond all that we ask or think, according to the power that works in us, to Him be glory in the church by Christ Jesus to all generations, forever and ever. (Ephesians 3:20-21)
Amen.