Mar 29, 2023 08:41 PM Central
Beth Ipock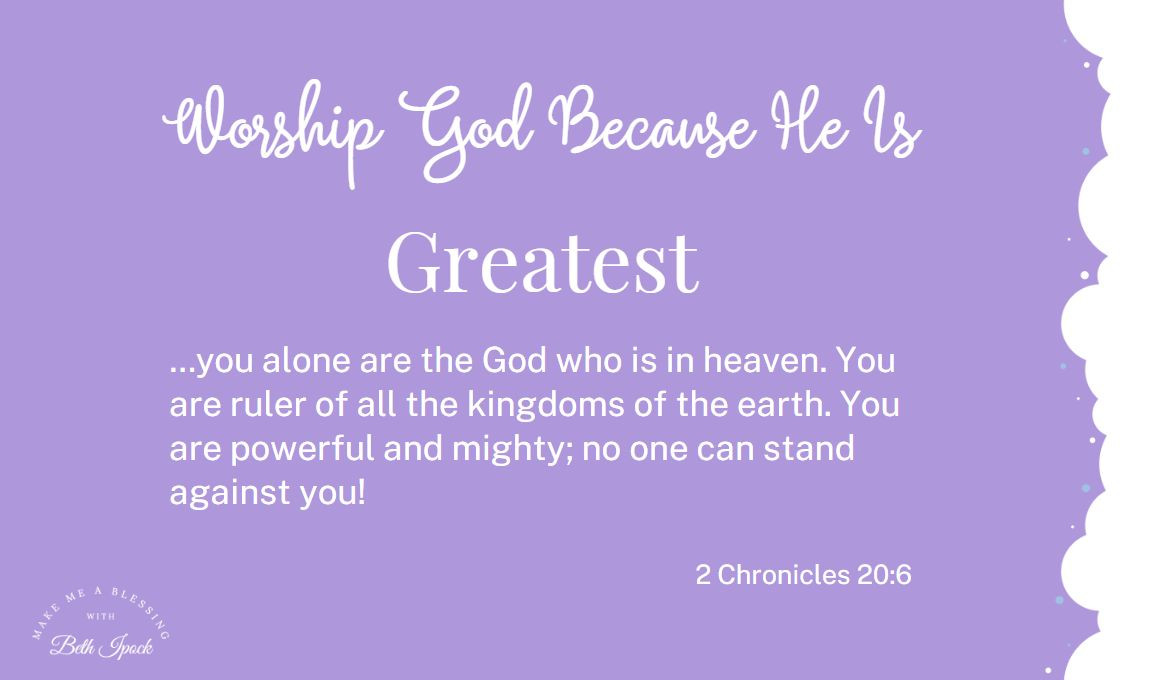 God is Great
God is great
God is good
Let us thank Him for our food
There are so many things we learned in childhood that taught us that God is great! What a wonderful doctrine to teach early and often.
Yet, when we say it or teach it or sing it, have we really considered all that attribute entails and the superiority of God's greatness?
God is Greater
Greater Requires Comparison
The word "greater" requires comparison. In recent years we've learned the toxic side effects of comparing ourselves to others, so we may be a little sensitive to that concept. And yet we make judgments that require comparisons every day.
What's the biggest boat you've ever been on? Maybe you've been on a cruise and experienced the luxury of a large ship. The largest boat I've been on is probably the Showboat Branson Belle in Branson, Missouri, near my hometown. It's a large paddle-wheeler that cruises up and down on Tablerock Lake while you eat dinner and see a variety show. It's one of the best shows in the area.
So when Ellis and I went to Port Aransas, Texas, for the first time, we quickly became enthralled by the oil, LNG, and LPG tankers that come through Port Aransas headed to or out of Corpus Christie and some smaller ports in that area.
Comparing our perspective of large to these tankers, we must recognize that the Branson Belle is quite small. And comparing the various vessels in Port A is really easy when they all show up in a photograph together!

Even as large as the huge ship in this photo is, we have found that some are even bigger. The largest one we see in Port A is 336 meters long. When we compare that to the smaller tug boats, we definitely determine that this larger one is greater. But did you know that there is still a greater ship than that? The largest ship as of this writing is about 400 meters. That is over 1,312 feet long!
The same goes for God's greatness. In order to claim His superiority, you must recognize that you are comparing Him to something or someone else.
God's Word is replete with His preeminence, so let's worship Him as we read some marvelous examples.
Greater Than Other gods
I know now that the LORD is greater than all other gods, because he rescued his people from the oppression of the proud Egyptians." Exodus 18:11
Moses' father-in-law, Jethro, was the first to proclaim Yahweh as greater than all other gods. No wonder God does not want to share our worship with any other god. The Psalmist heartily agrees in
Psalm 135:5
To what or who could we actually compare the one true God?
A false god created by a human of stone, wood, or some other inanimate substance
Imagined entities to whom people attribute power over the weather, war, the sea, crops, etc.
Human teachers that people follow, like Mohammad, Krishna, Buddha, and others
Anything else we might value more than God Almighty
The idols of the nations are but silver and gold, The work of man's hands. They have mouths, but they do not speak; They have eyes, but they do not see; They have ears, but they do not hear, Nor is there any breath at all in their mouths. Those who make them will be like them, Yes, everyone who trusts in them. Psalms 135:15-18
But, for argument's sake, let's take a moment and try some comparisons.
Our God Is The Creator
"You are worthy, O Lord our God, to receive glory and honor and power. For you created all things, and they exist because you created what you pleased." Revelation 4:11
We look at this Son and see the God who cannot be seen. We look at this Son and see God's original purpose in everything created. For everything, absolutely everything, above and below, visible and invisible, rank after rank after rank of angels—everything got started in him and finds its purpose in him. He was there before any of it came into existence and holds it all together right up to this moment. Colossians 1:15 MSG
All three persons of the Trinity are identified as being greater in Scripture. That's a lot of greatness!
If you want to ponder more about the greatness of God as Creator – check out
this post
.
Our God Desires Relationship
As we studied about being
Near to The Heart of God
. we remembered that God walked in the Garden with Adam and Eve until the fall.
We saw that He pursued His people throughout the Old Testament, even while they chose distance, and that He made a way for us to draw near to Him through the blood of Christ.
Whether it is one of the famous teachers or one of the imagined gods represented by some type of idol, we can quickly determine that our God is the only "god" that desires an intimate connection to His image-bearers and was willing to pay dearly for it.
Our God Is A Giver
Whatever is good and perfect comes down to us from God our Father, who created all the lights in the heavens. He never changes or casts a shifting shadow. James 1:17
Salvation - He offers freely many gifts, the best of which is salvation. Romans 6:23; Ephesians 2:8-9
Assurance – He wants us to know that our position in Him is secure if we are in Christ. It is only conditional on our trust in Christ as our Savior; not on anything we have done. John 3:16; John 10:27; Philippians 1:6
Honor – There is a day to come when we will share in the glory due Christ our savior. Psalm 71:21; Colossians 3:4; 1 Peter 5:6; 1 Peter 5:10
Grace – we already mentioned the grace gift of salvation. But God also promises to give us the grace needed to traverse this worldly existence until we go home to be with Him.
But He gives a greater grace. Therefore it says, "GOD IS OPPOSED TO THE PROUD, BUT GIVES GRACE TO THE HUMBLE." James 4:6
Because of our relationship with God through Christ and the indwelling of His Spirit, we are greater than the spirit that comes against us as long as we approach the battle in Him.
But you belong to God, my dear children. You have already won a victory over those people, because the Spirit who lives in you is greater than the spirit who lives in the world. 1 John 4:4
In fact, God gives us all we need for life and godliness through the knowledge of Him. What a God!
2 Peter 1:3
The fictional deities offer nothing but emptiness and disappointment. In fact, they cannot even take anything, though we may offer our time, money and adoration.
These examples of all God gives are only a sampling. Check out the
post from January 10
for more on God's Bountiful character that sets Him apart from every other "god."
God is the Greatest
In 1964 Mohammad Ali (Cassius Clay) proclaimed of himself, "I am the greatest." And for years, he turned out to be a pretty good boxer. Not many international figures have proclaimed this out loud, but we can tell many believe it of themselves.
Now when Abram was ninety-nine years old, the LORD appeared to Abram and said to him, "I am God Almighty; Genesis 17:1
In Hebrews
, the Bible proclaims about God that no one is greater. If no one is greater, then God is not only greater; he is the greatest!
In our world, there are great animals, great bodies of water, great canyons, and great mountains. There are great people – in wealth, popularity, and strength. However, from a human standpoint, no matter how great something is or how many fabulous things are brought together, there is still something greater. Someone greater.
There is none greater than the Lord God Almighty, the great Three In One. God the Father, God the Son (The Lamb of God), and the Holy Spirit are one God.
I pray this study of God's greatness has encouraged and comforted you in these days of tragedy and division in our country and throughout our world. Despite what seems to be growing difficulty, God is greater than all of it and His sovereign plan will be accomplished.
Revelation wraps up God's message to us with the hope that comes from His being the greatest.
These will wage war against the Lamb, and the Lamb will overcome them, because He is Lord of lords and King of kings, and those who are with Him are the called and chosen and faithful." Revelation 17:14
Lord of all lords. That's the greatest lord. King of all kings. That's the greatest king. He.Is.Both. Hallelujah!
Oh, Lord! Forgive us for ever putting anything before you. We are guilty of spending our time, our thoughts, our money, and our energy on other idols.
Work in our hearts to recognize any honor, glory, power, riches, and wisdom that come from you, and you alone are worthy of receiving those back.
We are amazed by your greatness and worship you because you are the greatest.
If I can pray for you in any way or help you to know the One True God who is far greater than anyone or anything, please
click here
to contact me. Let me tell you about my Jesus!