Oct 30, 2023 08:54 AM Central
Beth Ipock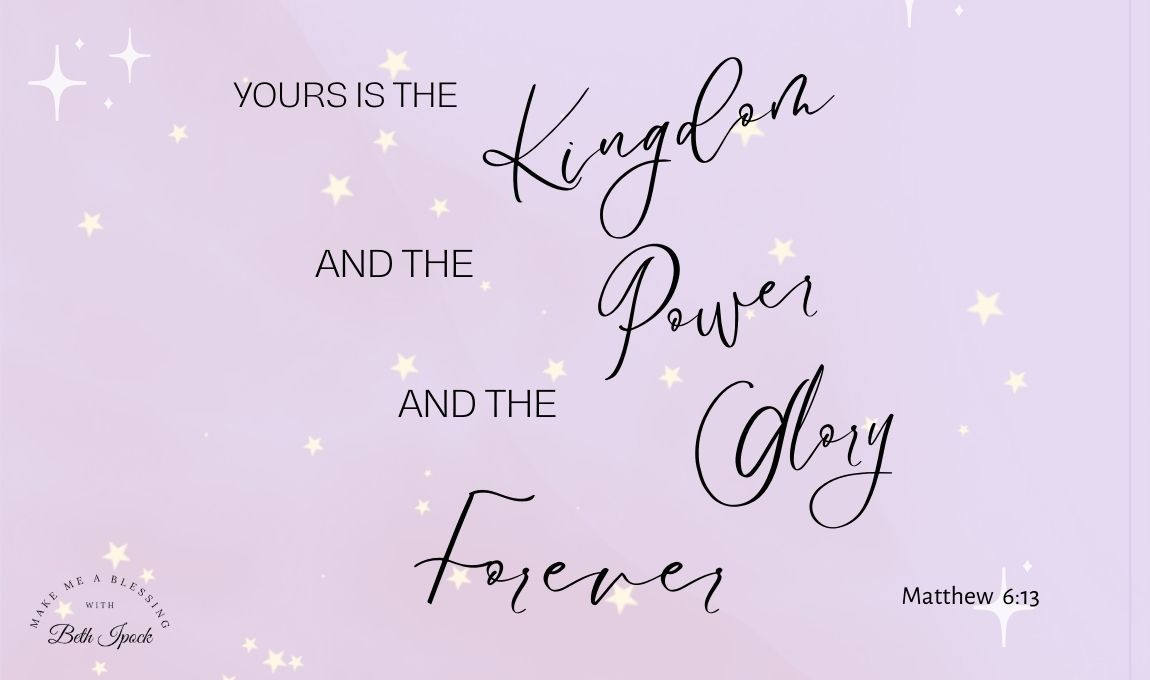 This morning I began praying the Model Prayer and wrote out my specific praise and requests under each heading. I hope this encourages you as you grow in your prayer life. Isn't it wonderful that God continues to reveal Himself to us?!
Our Father in heaven
My Father through Christ
Who allows me access to the throne room through Christ
Who rules and reigns over all
Who provided the grace and faith that I could have a right relationship with You
Who promises never to leave or forsake me
Who keeps all His promises
…In heaven and yet in me through the Holy Spirit
Holy is Your Name
Completely set apart in every way
From any other god that has ever been fashioned in the mind or hands of man
From my humanity
In power and sovereignty
In majesty and glory
In faithfulness
In righteousness
In stamina
In eternity
In abundance
Your kingdom come
Soon, you will establish your permanent kingdom location in the New Jerusalem - in the New Heavens and the New Earth, yet your kingdom exists now - both in heaven and in the hearts of believers across the globe. As we seek and do your will, making disciples of every nation, we contribute to your kingdom.
What a privilege to be part of that. And yet we get so interested in the things the world has to offer that we slight the work of the kingdom. Help us to keep our eyes on our job of glorifying you and enjoying you so that the things of earth grow dim in importance. Help us remember your call in 2 Peter to hasten the day of Christ's return.
Your will be done on earth as it is in heaven
In heaven, everything is being done according to your will and for your glory. Help us to have that same priority. Help ME to seek your will each day. Help me to surrender where my will doesn't naturally match. So often, this is more in my attitudes than in my actions. Give me the mind of Christ who surrendered completely for the joy set before Him. Help me have the eyes and heart of eternity and not just today.
Give us this day our daily bread
Praise you for your ability and desire to meet our every need according to your riches in glory. Thank you that you know our needs better than we do ourselves. Help us to be more grateful - daily grateful - for your provision and answered prayer.
Help us to recognize abundance all around us when we focus on scarcity. Remind us that our greatest need is a right relationship with you, and that has also been provided generously. Help us be as concerned for our need for wisdom as we are for physical food. We know that when we ask you give generously and without reproach.
Forgive us our debts as we forgive our debtors
We thank you for the promise of your cleansing and forgiveness when we confess and repent of our sins. Help us to be so mindful of our need for your forgiveness that we are unfailing in our forgiveness of others. Shine the light on any root of bitterness that we have let grow and keep covered up from others, but which impacts our right relationship with you.
O, great God - our Father, yours is the kingdom - all authority
Yours is the power - there is nothing you cannot do
Yours is the glory - you outshine anything we can see or imagine
Forever - a timeframe we cannot even comprehend
We praise you!
Amen.